Kia Ora! My name is Cherye Roche.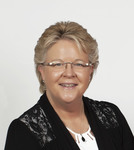 "As a Doctor of Chiropractic my goal is in identifying the underlying biomechanical, neurological or physiologic causes of a patients' condition, so as to help them resolve their condition, restore their normal function, enhance their performance, and help their body to express its optimal performance."  
---
My qualifications:
Doctor of Chiropractic (USA)
FCC  (Fellow - College of Chiropractors UK)
FEAC (Ortho)  Fellow – European Academy of Chiropractic – Orthopaedics
A.T.,C. (Certified Athletic Trainer)  
LMT (Licensed Massage Therapist)
B.A. Exercise Physiology
---
 PROFESSIONAL BIOGRAPHY
Dr. Cherye Roche studied kinesiology and exercise physiology at the University of Washington (USA), and earned a bachelors degree, plus certification as an athletic trainer (A.T.C.). She served as an intern at the U.S. Olympic Training Centre in Colorado Springs (USA), and then worked as an exercise physiologist in the fitness industry before going on to Chiropractic College.  Dr. Roche graduated from Western States Chiropractic College in Portland, Oregon (USA) before going on to work in private practice for 11 years in Seattle Washington.  During this time, she worked as a Chiropractor and athletic trainer at the Goodwill Games, as well as serving as a team Chiropractor for a variety of athletes and teams of both professional and amateur status.  Her private practice focuses on spinal health, sports injury care, the resolution of chronic complaints, functional biomechanics, custom orthotic therapy and nutritional support for vital health.
Dr. Roche has spent several years in healthcare education as an adjunct faculty member at Bastyr University of Natural Medicine in Seattle Washington, and as an assistant professor at Western States Chiropractic College in Portland Oregon. In 2001 she immigrated to the UK where she became a senior lecturer at the University of Surrey, and the University Glamorgan chiropractic training programmes.   She has lectured on a variety of topics, supervised research projects, and tutored Chiropractic interns.  Her areas of expertise are; spinal and extremity adjusting, functional rehabilitation, functional orthotic therapy, and nutritional support for musculoskeletal conditions, and general wellness.
Currently, Dr. Roche has a private practice in Albany, New Zealand providing general biomechanical assessments and orthotic therapy consultancy.  As a practitioner, functional biomechanics, exercise/rehabilitation advice, orthotic therapy, and referral advice to offer each patient a unique care plan that will help to resolve their complaint quickly and effectively.